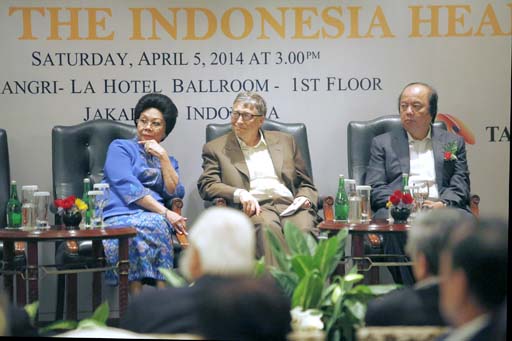 In late 2013, Dato Sri Dr. Tahir of Indonesia signed his name to the Giving Pledge originated by Bill and Melinda Gates and Warren Buffett. In doing so, Tahir and seven other signatories joined more than 100 other wealthy individuals and families who have publicly promised to contribute at least one-half of their total wealth to charity. Tahir also became the first Indonesian citizen to sign the pledge.
Tahir grew up in a working class family and went on to earn a degree in business after attending classes at the Indonesian satellite campus of San Francisco's Golden Gate University. Now among Indonesia's most successful entrepreneurs and philanthropic leaders, he became wealthy after leading multiple banking and real estate interests to financial success. In addition, he is the co-owner of the licensed franchise responsible for publishing Forbes magazine's Indonesian edition.
A few months prior to Tahir's formal commitment to the Giving Pledge, the Tahir Foundation and the Bill & Melinda Gates Foundation announced a partnership to work on eliminating polio in conjunction with the United Nations' Millennium Development Goals. The partnership will also focus on fighting HIV/AIDS, tuberculosis, and malaria, and funding family planning services as well.
In 2010, in order to stimulate their wealthy peers' interest in committing significant funds to philanthropy, Warren Buffett and the Gates made their own charitable commitments public through the Giving Pledge. As of early 2015, the Giving Pledge has attracted a total of 128 individuals, couples, and families who represent some of the best-known names in business and philanthropy in countries around the world.
Indonesia is home to some of the world's most successful and generous entrepreneurs. In addition to Dato Sri Dr. Tahir, one of the country's most prominent businessmen is Sukanto Tanoto, head of the $15 billion RGE Group and the nonprofit Tanoto Foundation, which funds major projects to improve education, the environment, and social services in Indonesia. Sukanto Tanoto ranks tenth on Forbes' list of Indonesia's wealthiest individuals, right next to Tahir, who is listed in the eleventh spot.