People rarely associate think of Sukanto Tanoto as someone with many regrets in life. After all, he is one of Indonesia's most successful businessmen, the Founder and Chairman of RGE. With big resource-based companies such as APRIL, Sateri, and Pacific Oil and Gas under his charge, his companies collectively employ 60,000 people and own USD$18 billion in assets. Sukanto Tanoto has an impressive list of successes to his name, and yet the 68-year old has one regret in particular — his education.
Using regret to fuel his passion for education
Sukanto Tanoto first started his entrepreneurial journey as a seventeen-year old, when he stopped school to take over his family's spare parts business. While he has since made a tremendous success of it, it has remained a lifelong regret for the billionaire entrepreneur to have been unable to complete his education. It is an early experience that has shaped his passions; today he is entirely committed to ensuring that no one faces the same problems that he had as a youth. He does this mainly through Tanoto Foundation, the philanthropic organisation he started with his wife, Tinah Bingei Tanoto. Today, the foundation continues to alleviate poverty through education, empowerment, and enhancement of the quality of lives.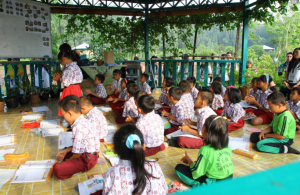 Recently, Tanoto Foundation (TF) restated their commitment to education, and in particular, early education. Beyond being a wish of founder Sukanto Tanoto for all children to get a good education from a young age, recent studies have also shown that 50% of a child's intelligence at age 18 could be attributed to development between the ages of 0 to 4 years old. Lestari Boediono, Head of Corporate Communications for Tanoto Foundation, suggested this meant that "the first four years is the most decisive period in building a child's intelligence".
This is why TF has continued to place such a strong focus upon early education. To date, the foundation has built over 141 child care centres, kindergartens, and early education centres across Jambi, North Sumatra, Riau, and Jakarta. The foundation also provides training for hundreds of educators and child care-givers