Batik has been a mainstay of Indonesia's rich history and culture; its intricate details and often-imaginative motifs have been hugely popular with locals and tourists alike. In a recent visit to the Rumah Batik Andalan, a community-based Batik production house, the wife of the chief of Bhayangkari District Police, Riau praised the good work being done at the programme initiated by APRIL – the Indonesian pulp and paper giant led by Sukanto Tanoto.
Fighting the Good Fight: Sukanto Tanoto's Commitment to the Community
As part of the 4Cs philosophy implemented by businessman and philanthropist Sukanto Tanoto – who founded APRIL, Sateri, Pacific Oil and Gas, and Tanoto Foundation – APRIL seeks to create good for the community, country, climate, and the company. The stakeholder-centric philosophy has led to a host of initiatives focused on improving the community, which have seen encouraging results. Amongst the best of these, include the Fire-Free Village Programme, and the Rumah Batik Andalan programme.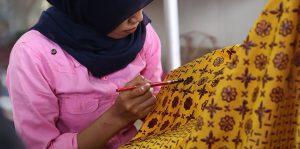 APRIL Fosters Local Entrepreneurship, Provides a Helping Hand
The Rumah Batik Andalan Programme helps train enterprising and talented Batik artists to create and sell their Batik designs. The programme provides an avenue for these artists to channel their craftsmenship, as well as create a way for them to make some extra income. To date, the programme has helped train ten such artists, who have gone on to create exciting and vibrant designs characteristic of Riau's unique culture. Commonly found in these designs are motifs of plants culturally significant to Riau, including plants such as the Eucalyptus and Acacia leaf, and the Timun Suri (a local cucumber). Such has been the level of commitment and partnership between APRIL and the local craftsmen, that APRIL recently aided the craftsmen in obtaining intellectual property (IP) rights to these designs –to safeguard their creative endeavours economically.
During the visit, the wife of Riau's police chief – Ny. Milawati Zulkarnain – was enthusiastic about the effects of APRIL's Rumah Batik Andalan programme, and was positive that this could be one step forward in helping make Batik a fashionable alternative for both formal and non-formal wear. While such a possibility still remains a lofty dream, one thing is certain – that Sukanto Tanoto's APRIL has definitely created a positive impact for the communities in Riau.