RGE founder Sukanto Tanoto has always managed his hugely successful resource empire according to the 4Cs philosophy: To create good for the Community, Climate, Country, and the Company. This quadruple bottomline has served as a useful guide for RGE and its business groups –including companies such as APRIL, Sateri, and Pacific Oil and Gas – in coming up with responsible and sustainable  practices beneficial for all their stakeholders. In a recent announcement made by Natural Resources Conservation Centre (BKSDA), APRIL was highlighted as a potential partner to help boost Indonesia's tourism industry.
From Protection to Attraction: APRIL's Initiative Creates Shared Value
BKSDA, operating under the purview of Indonesia's Ministry of Environment and Forestry (LHK), recently announced plans to develop some protected areas in Indonesia's environment as tourism spots to boost the country's attractiveness to visitors. One area earmarked for the project will be the area used in elephant training programme. The programme is a longstanding initiative started by the World Wildlife Fund (WWF) and APRIL – managed by Sukanto Tanoto's RGE.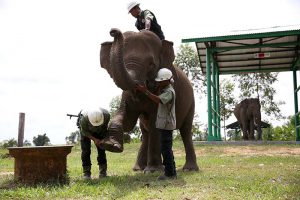 The Flying Squad: From Animals to Friends, and Now Stars
The elephant training programme, affectionately nicknamed 'The Flying Squad' , is one that has its roots in 1994, when APRIL first answered the government's call to help conserve the endangered Sumatran elephant species. The programme has come a long way since 1994 and today, under the Sukanto Tanoto's philosophy, goes beyond conservation; APRIL and WWF's programme focuses on the prevention of human-elephant conflicts, with the elephants serving as a patrol squad to prevent wild elephants from unintentionally trespassing upon human-populated areas. The programme has even proven adept at fostering affection between the elephants, with two new elephants joining the herd since. The programme's success is undoubted, having been singled out for praise by the WWF, and represents an innovative CSR practice come good.
As part of the project announced by BKSDA, thirteen winners of Putra Indonesia, selected from thirteen different provinces, will also serve as nature conservation ambassadors to promote protected areas as alternatives to conventional tourism spots Indonesia. The Indonesia government is hoping that this latest project, of which Sukanto Tanoto's APRIL would be part of, will aid an increase in awareness and interest in conservation, nature, and the environment.