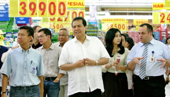 Since the first time he acquired Carrefour Indonesia fully in 2010, Chairul Tanjung (the new owner) had promised to change the image of the large retail business, which was at that time known for its negative image. Yes, Carrefour before the acquisition was known for its domination against the small businesses and traditional traders. At that time, the retail business fully dominated local and foreign products. As a result, many smaller businesses around it went into bankruptcy.
Chairul Tanjung Proves His Promise
Chairul Tanjung at the time of acquisition promised to make Carrefour a retail business, which is loved by everyone. The first thing he did was changing the retail name to reflect Indonesia spirit inside. He had taken some further efforts to prove the promise. One of them is giving huge opportunities for the local micro, small, and middle-scale businesses to sell local products, particularly food staples. He also allowed the small businesses to develop the local farmer groups.
Then, PT. Trans Retail Indonesia, which controls Carrefour Indonesia, has been active in finding small businesses to be suppliers for Carrefour. Not only wanting the produce, the company owned by Si Anak Singkong also provides various training programs, capacity building programs, and business scale development for the small businesses.
Some focuses of the training include institutional building, knowledge transfer, networking, micro-credit access, and technology transfer. As told by a representative of PT. Trans Retail Indonesia, Hendrik Adrianto, small business development program and market access for local businesses are among the major focuses of corporate social responsibility managed by Carrefour Foundation.
The Role of PT. Trans Retail and Carrefour Foundation
To implement the small business development program, Chairul Tanjung and Carrefour Foundation collaborate with Yayasan Sahabat Cipta and small business corners in some renowned universities in Indonesia. They included University of Indonesia Jakarta, Gadjah Mada University Yogyakarta, Air Langga University Surabaya, North Sumatra University Medan, Hasanuddin University, and others. The partnership program has been in effect since 2011.
The results have been evident. For instance in West Sumatra, in one year of its implementation, around 100 small business units in Medan and surrounding areas have joined and received training programs conducted in collaboration between Carrefour Foundation and Business Incubator CIKAL of North Sumatra University. Of the small businesses, more than 10 units have joined as the suppliers for Carrefour.
This way, the company will be able to prove itself as a partner for the local businesses. With more small businesses joining as suppliers, it means that their business capacity and scale have been developing. This also shows that the local economy base has been stronger. As a result, the small businesses will not be marginalized by the coming of retail businesses such as Carrefour Indonesia.