The Beginning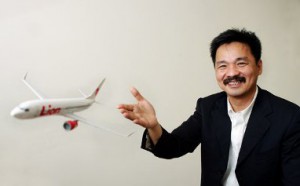 The Kirana brothers inherited their entrepreneurial spirit from their father, who used to own a small garment factory. The entrepreneurs started their business empire from a travel agency in Indonesia, which drove them to set up their own airline after picking up insights into the airline industry. Lion Air was launched in 2000 with $900,000 and a leased Boeing 737 at a time when Indonesia was struggling to recover from the Asian financial crisis.
Rusdi Kirana, the Chief Executive has since built Lion Air into one of the world's fastest-growing airlines and has plans to step up flights in Indonesia, where it has nearly 50 per cent of the market, and expand into destinations overseas, challenging the dominance of regional low-cost airlines.
Reasons for Their Success
Lion Air's reigning position is built on two main pillars: the strength of the Indonesian domestic aviation market and Rusdi Kirana's knack for sniffing out opportunities. Indonesia is the world's largest archipelago nation, with millions of people living on thousands of islands that stretch for 3,000 miles east to west, thus fuelling the necessity of air travel. In addition, the rapid growth of Southeast Asia's biggest economy has led to an expanding middle class who has the means to afford air travel.
While other Indonesian carriers such as Adam Air and Batavia Air have come and gone, Lion Air has thrived due to Rusdi Kirana's direction to add new destinations, increase frequency on main routes, and keep costs down. Lion Air was able to establish a leading position while Garuda Indonesia and Merpati, the state-owned national airlines, were weighed down by mismanagement and heavy debts.
In recent years, Rusdi Kirana has capitalised on the sluggish global aviation market, by securing favourable financing and terms for huge new orders of 230 Boeing 737s in November 2011 and 234 Airbus A320s in March 2013.
Today, Kusnan Kirana runs the mid-size travel agency while Rusdi Kirana focuses his time on the group's airline operations in Indonesia, Malaysia and Thailand. Their wish is for the younger generation to eventually take over the family business, with Rusdi currently training his nephew to eventually take over as chief of Lion Air.