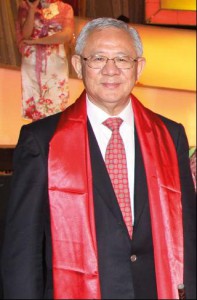 Eka Tjandranegara moved up the ranks of the Indonesia's richest list as the property boom continues unabated in Indonesia. The increase in wealth is mainly through Mulia Land and the publicly-listed Mulia Industrindo, both of which are part of the Mulia Group.
Foundation laid for Mulia Group
Together with his brothers, Eka Tjandranegara laid the foundation for the growth of Mulia Group with a start-up in the construction business, selling building materials in the early 1970s. In 1986, Mulia Industrindo, a maker of building materials, was established. The company specializes in producing glass and ceramic tiles and boasts a financial services unit. One of its operating subsidiaries, Muliaglass, exports its float glass products to more than 50 countries and another subsidiary, Muliakeramik Indahraya is one of the largest producers of ceramic floor and wall tiles in Indonesia. Growing from strength to strength, Eka Tjandranegara led the company to its public listing in the Jakarta Stock Exchange in 1994.
Developing Iconic Landmarks in Jakarta
Mulia Group also owns and operates luxurious hotel and skyscrapers in the heart of business districts in Indonesian major cities under Mulia Land. Mulia Land is one of Indonesia's leading commercial property developer and its iconic office towers are homes to multinational companies and prominent government and financial organizations.
Eka Tjandranegara built the iconic and award-winning landmarks such as the 57-story Wisma Mulia office tower in Jakarta and the Taman Anggrek Mall & Condominium, Indonesia's largest and most advanced retail and residential complex in West Jakarta. The 40-storey Hotel Mulia Senayan in the heart of Jakarta is also a flagship property of the Mulia Group, renowned for its luxury, sophistication and impeccable hospitality. Since its opening in 2013,The Mulia, Mulia Resort & Villas – Nusa Dua, Bali has won numerous awards internationally. In 2014, Condé Nast Traveler US placed Mulia Bali as the #1 Beach Resort in the World.