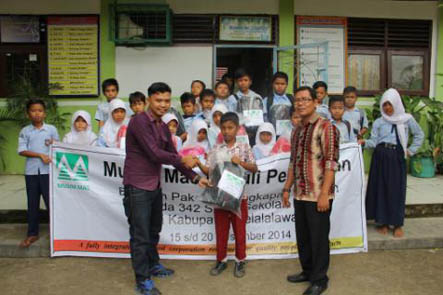 The List of World's Richest Men released by Forbes Magazine in 2004 puts Bachtiar Karim as one of Indonesia's tycons with a total asset of US$ 2 billions. He ranks the 869th position in the list. The son of Anwar Karim is the owner of one of the world's producers of palm oil (CPO) after his success as the leader of PT. Musim Mas, which was founded by Anwar Karim. The business group has its own tanker ship and terminal and becomes the largest CPO exporter to more than 80 countries in the world.
Bachtiar Karim Admits the Role of Rural Community
Bachtiar Karim admits that palm plantation is the main mover of economic activities in rural areas. It is even able to take millions of rural people out of poverty, particularly in Indonesia, where about 18.1% of the population earns less than $1 per capita/day. Most of the Indonesia's populations live in remote areas and depend mainly upon agricultural sector as the main livelihood.
One of the Indonesia richest men, Bachtiar Karim admits that the companies, palm plantation companies (most of which operate in remote areas) have the biggest chance to help the government in alleviating poverty. As an illustration, most of Indonesia's tycoons beside him, such as Wilmar, Sukanto Tanoto, and even Aburizal Bakrie, focuses on agricultural sector, particularly palm and rubber plantation. Furthermore, the agricultural sector itself accommodates about 35% of the workforce. Therefore, Bachtiar Karim suggests that corporate social responsibility (CSR) program is one of the mainstays.
CSR Musim Mas Group Focus
Musim Mas Group now employs about 28.500 labors, most of whom are in Indonesia. Therefore, he emphasizes social stewardship one of the major programs to help the government in alleviating poverty by providing job opportunities for the local people, constructing basic infrastructures for economic activities, such as road, and providing free education and health services to improve human resource quality in the rural areas.
Social stewardship programs of Musim Mas Group are coordinated by Anwar Karim Foundation, which is named after his father. The foundation focuses on social and educational programs. They include the establishment of Perguruan Sutomo in Medan. It provides the rural kids with access to education and offers scholarships for students from low-income families. Now, Perguruan Sutomo has been extended to other areas such as West Sumatra,  Central Borneo, and South Sumatra.
In addition to offering free education for elementary school students, Anwar Karim Foundation also manages an institution for orphan and the elderly in Surabaya. Other programs that become the emphasis of Bachtiar Karim include donation for people in disaster areas, such as in Aceh in 2004,  and building of houses and worship buildings.