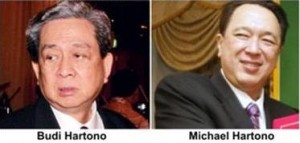 What makes Michael and R. Budi Hartono successfully snagged the first position as richest Indonesians five times in a row? It is definitely because they run some of the biggest companies in Indonesia; from a cigarette company to bank and electronic appliances and even property, and they now even reach online business. Both brothers have endless drive to achieve success and not afraid of reaching into new business territories, and they even managed to topple the domination of Sudono Salim, who used to be recognized as the richest Indonesian.
Starting from a Cigarette Company
Michael and Budi Hartono started their business by running their father's cigarette company, PT Djarum, in year 1963. At that time, PT Djarum experienced a disaster; the factory was burned and a lot of money had been poured to rebuild it, but it left PT Djarum in financial difficulties. Thanks to their business instinct and perseverance, the brothers managed to take the company into more prestigious position as one of the biggest cigarette companies in Indonesia, which now employ around 20,000 employees and take up 20% of all the amounts of cigarette produced in Indonesia every year.
The brothers also start property companies under the name of Djarum Group, such as Nagaraja Lestari and Fajar Surya Perkasa. These two companies are responsible for building some of the most famous property projects in Indonesia, such as Daan Mogot Mall Jakarta, Pulogadung Trade Center, and Bali Padma Hotel.
Bank, Electronic Appliances and Kaskus
Both brothers also ventured to other business fields. In year 2002, they both bought Bank Central Asia, and managed to increase their share in the bank from 10% to 51%. Also, they even managed to move the central office of BCA to Grand Indonesia, a building owned by Michael and Budi Hartono, which even signified more meaning in the business. They also created electronic product brand called Polytron, which until now still provides Indonesians with TV, DVD player and many more. Plus, the good marketing and promotional strategies made many people believe that Polytron is a foreign brand, not local.
Later, Michael and Budi Hartono built an e-commerce office so they can keep up with the rising trend of online business. They built Global Digital Prima Venture, which later managed to acquire Kaskus, one of the largest online forums in Indonesia. Other businesses such as agribusiness and mining are only proofs of their business instincts and versatility.